» Rigomagno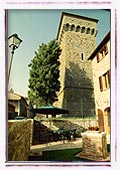 Rigomagno's castle is situated at the top of the hill 411 mt high. It has been the first village under Siena Republic power, at the feet of the hill is starting Val di Chiana, from all sides you can enjoy a beautiful panorama.

At the start it was castle, later a fortified village, is placed at the top of the hill made of limestone and serenastone.
It has been built in a strategic position to defend the cleft made by the bed of Foenna stream between the hills, making easier the road from Valdichiana to the heart of Siena's land.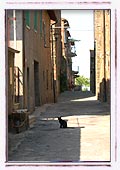 Probably it is of roman origin , at that time it was placed at the feet of the hill and only later, for safety reason, it was rebuilt on top of the hill.
It endured the up and downs common to all castles at the border of Siena's republic. Rigomagno is worth a visit for the way it has been built, how to used to build in the thirteen century. In spite of time it is still readable the structure based on three parallel longitudinal lines and on a perpendicular connection, in such a way to have on the central point of intersection the palace (ex-municipality) with a tower (restored on 1910) the church and the well.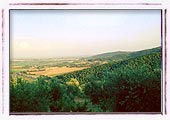 The church is Romanesque style , with one aisle.
It shows several structural interventions (particularly on the left outside part made in style at the beginning of last century).
Traces of the walls are still to be seen especially in the low part, in several spots better kept the north side, here are two semicircular towers one of the two is rather high.
Going along the ring road one can see some ruins of towers among olive trees, and this is really an enchanting panorama. Over the village there is the high water tank built on 1933.
Modern buildings are low enough so as not to hide this pearl left nearly intact from a far past.
Most of new buildings are built near the railway station.